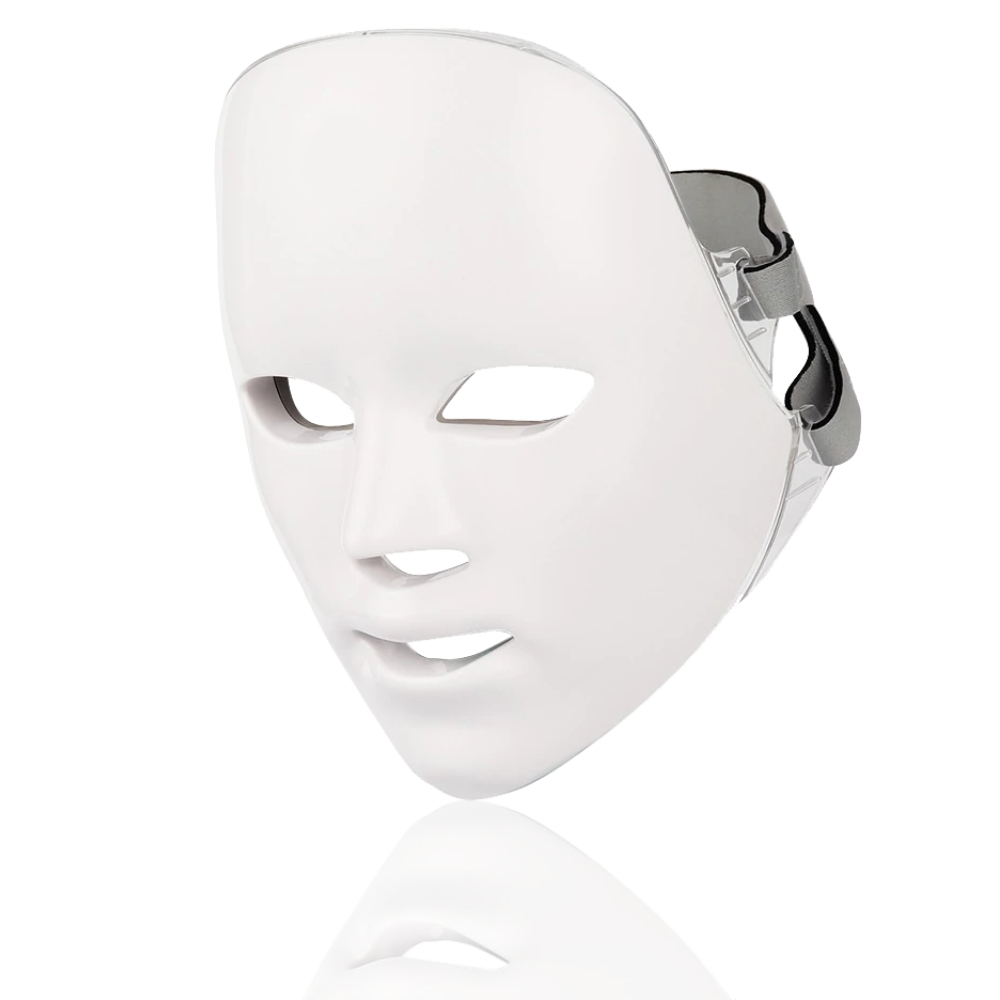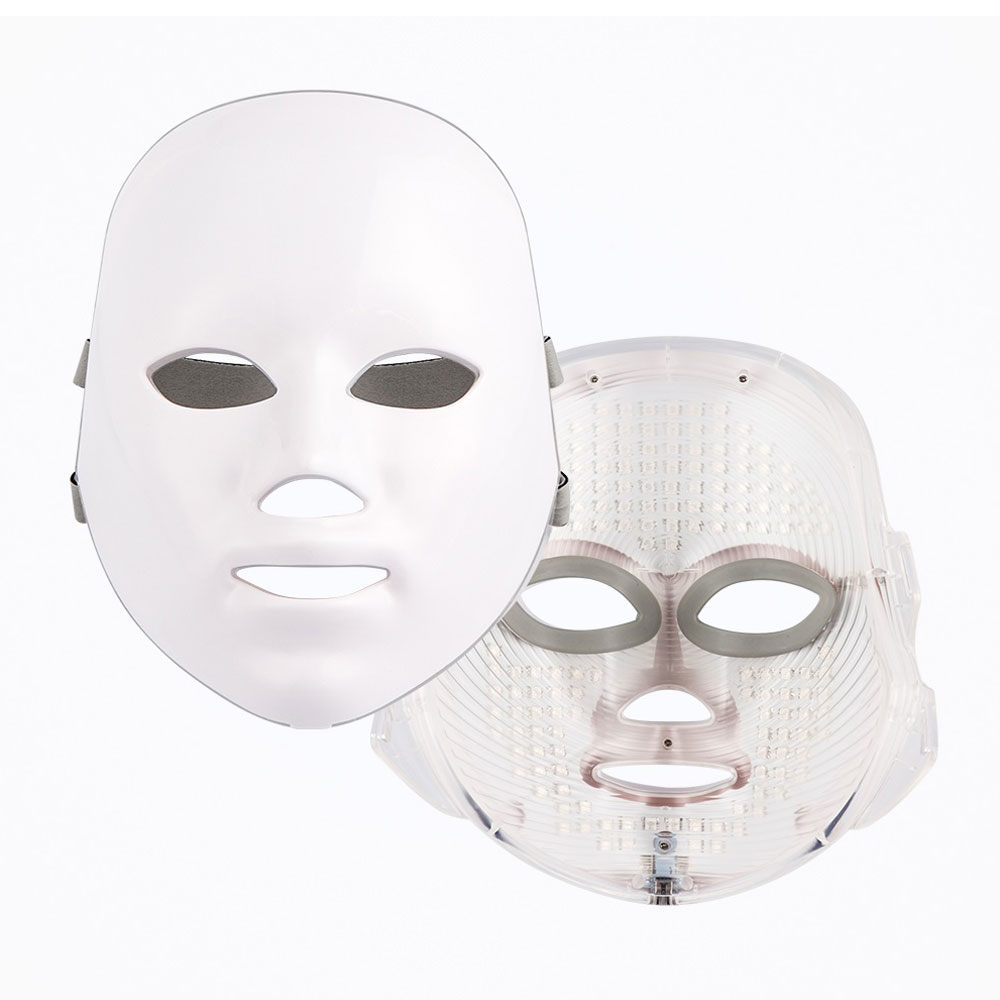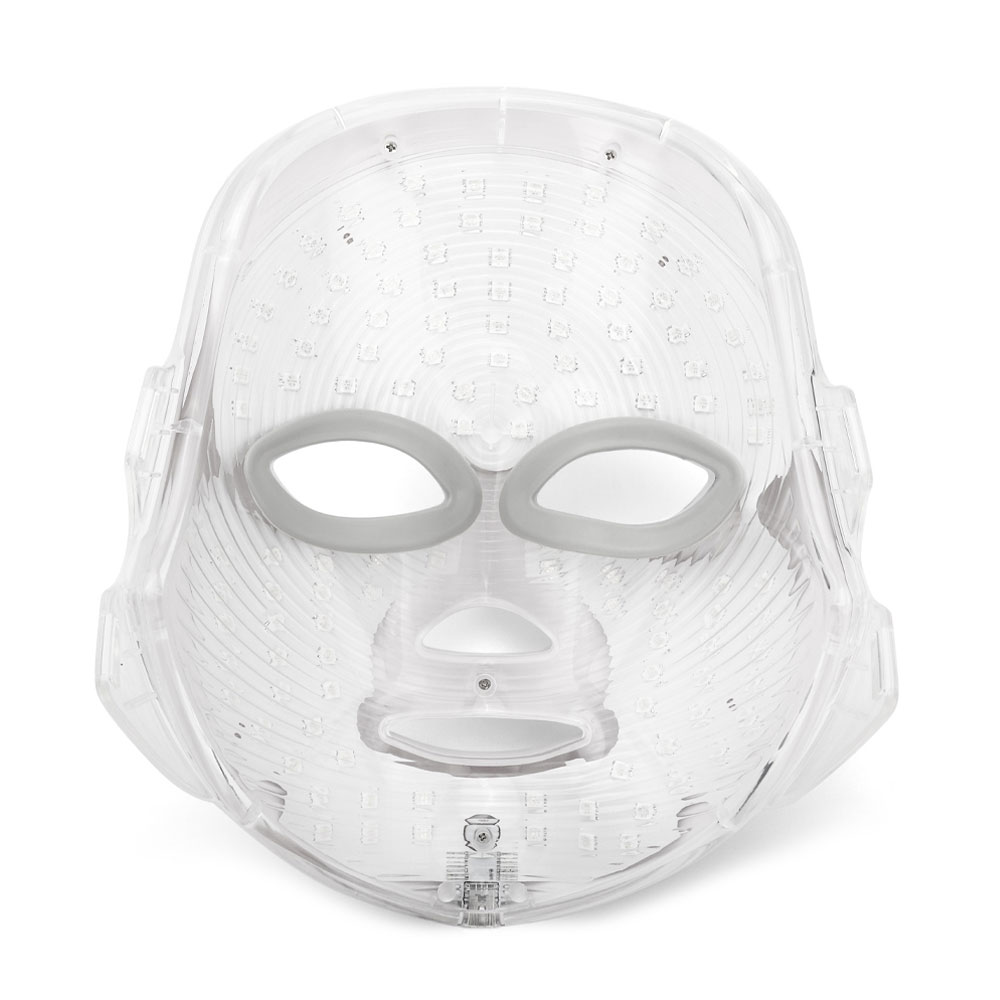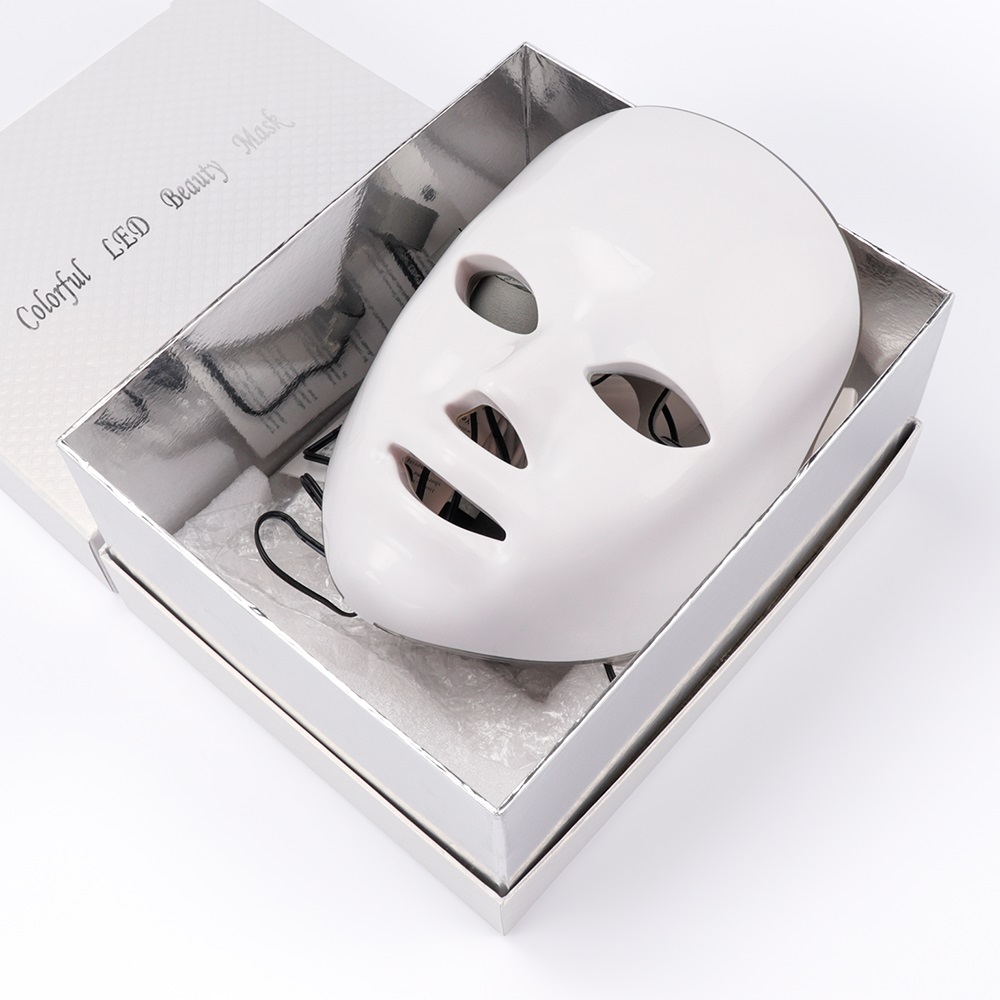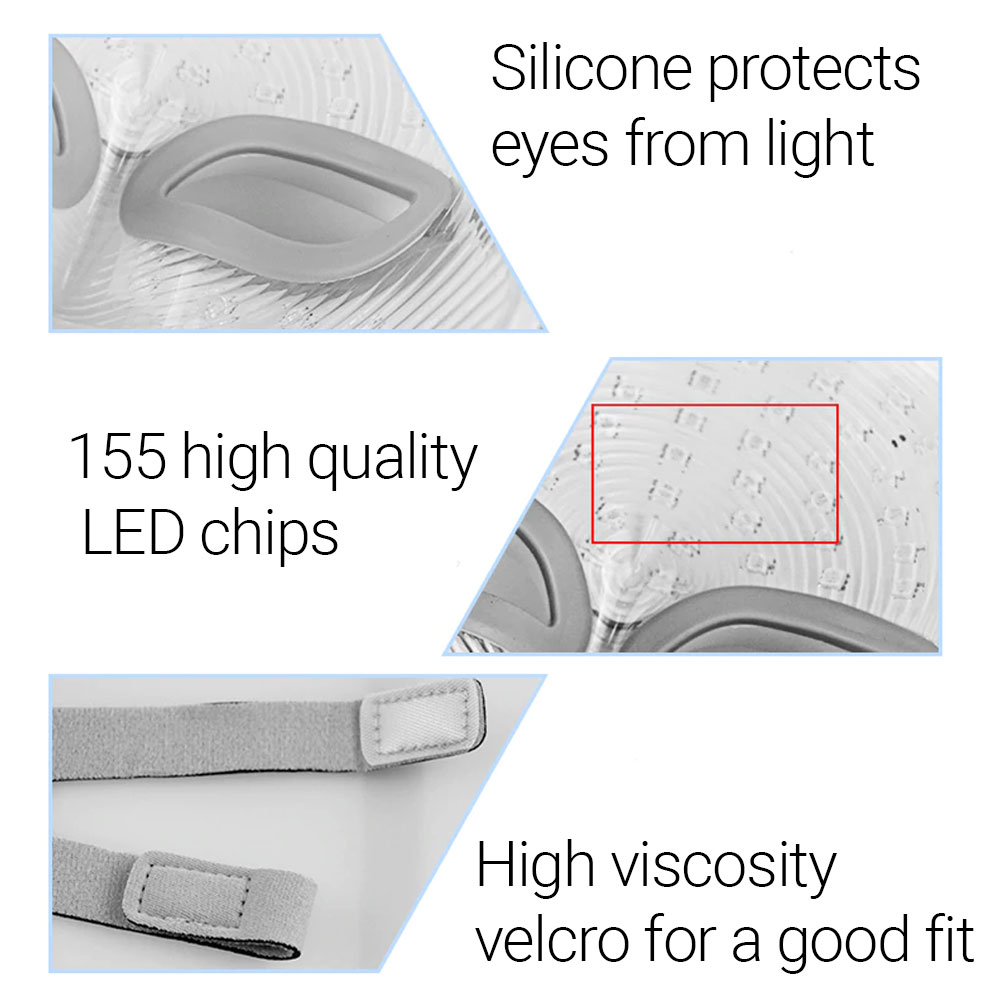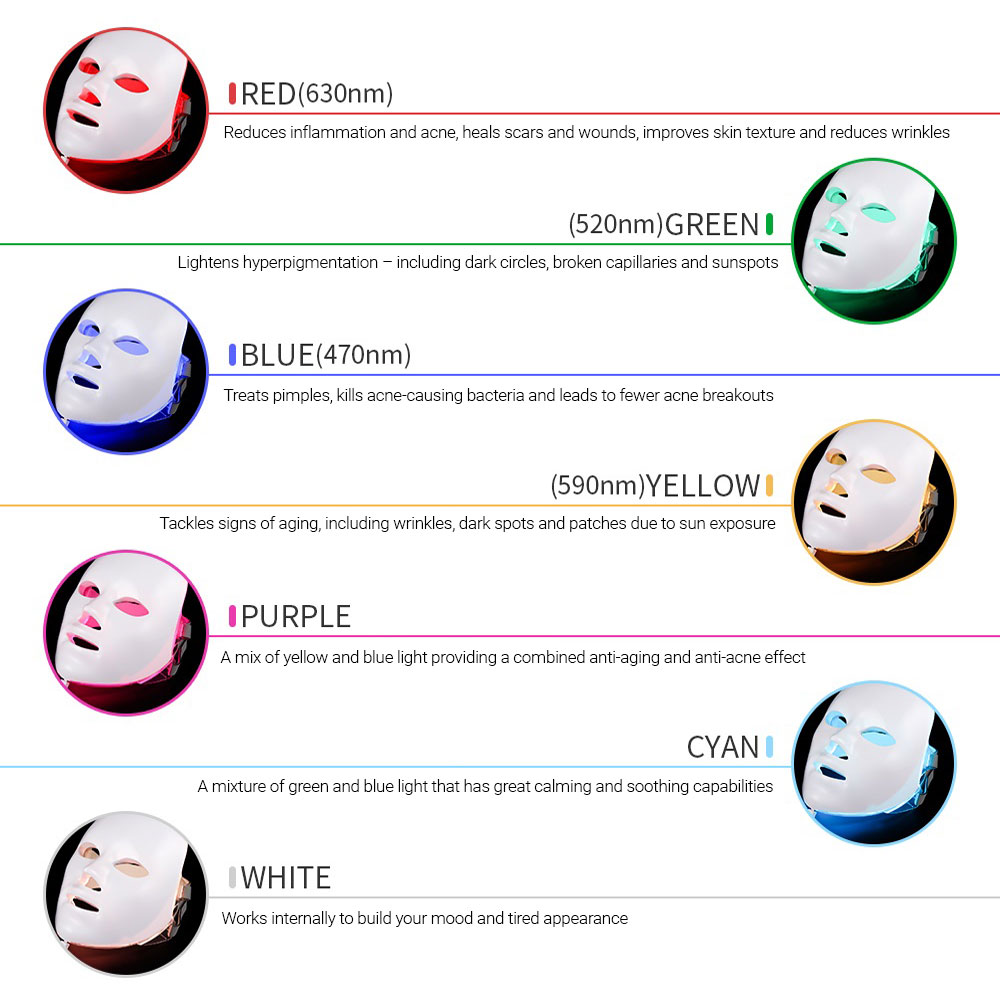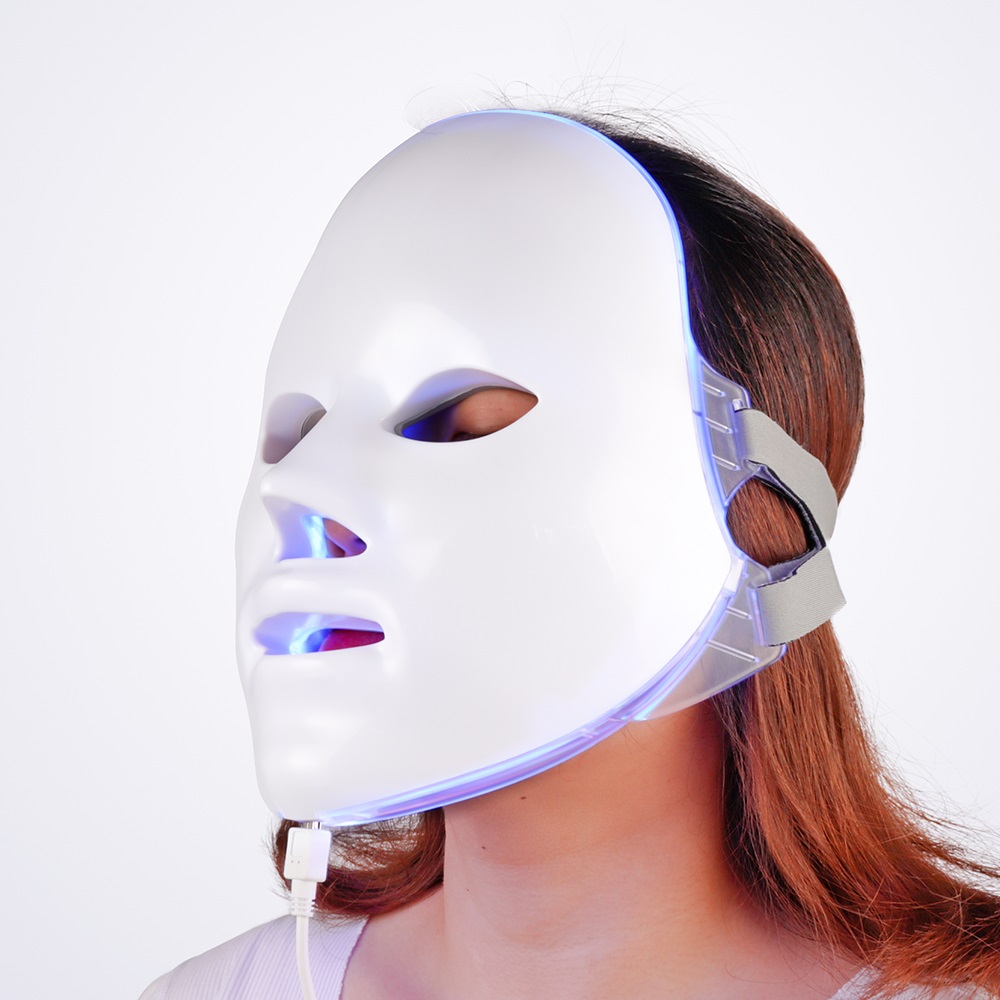 Acne Targeting LED Light Therapy Mask
Meet the mask that delivers a clinical light based treatment that's proven to tackle acne at all stages of development. With it, you can calm inflamed pimples, clear active acne, prevent future breakouts and even remove post-acne hyperpigmentation. 
We offer fast and free international shipping on all orders to every customer from our global distribution centre!
Shipping times
UK: 7 – 14 days
US: 12 – 18 days
Canada: 12 – 15 days
Australia: 7 – 15 days
Rest of Europe: 8 – 15 days
Rest of world: 7 – 20 days
Because we know you'll love our products, we offer a no nonsense money back guarantee. Return within 30 days for any reason at all with your product in a saleable condition and get a full refund.
90 day results or money back guarantee
Use our products consistently for 3 months and if you don't see any results, get your money back, no hassle involved. Why 3 months? Because this is the amount of time it takes for adult skin to renew, that's why most products recommend you use them for this amount of time.
6 month fault guarantee
All our electrical devices come with our store 6 month warranty. That is, if your product breaks down, you can get a replacement sent to you on us.
Proven effective
We only stock devices that are evidence based, effective and that we know we can pass onto you affordably.
Highly rated
Since launching, we've earned almost 1000 5 star reviews for our service and the results our products provide.
UK customer support
Contact us 24/7 with any questions and get fast feedback from our UK customer support - no robots, just polite and helpful staff.
For a proportion of people plagued by acne, over-the-counter (OTC) products don't do anything to help, no matter how much money you waste on creams, pore strips, heated masks and washes. If you're one of these people, you know that dealing with spots are a nightmare:
Luckily, the solution that professional clinics use for acne that doesn't respond well to OTC products is now available for home use – it's LED light therapy. With it, you can treat red, swollen spots fast and even prevent acne from occurring in the first place.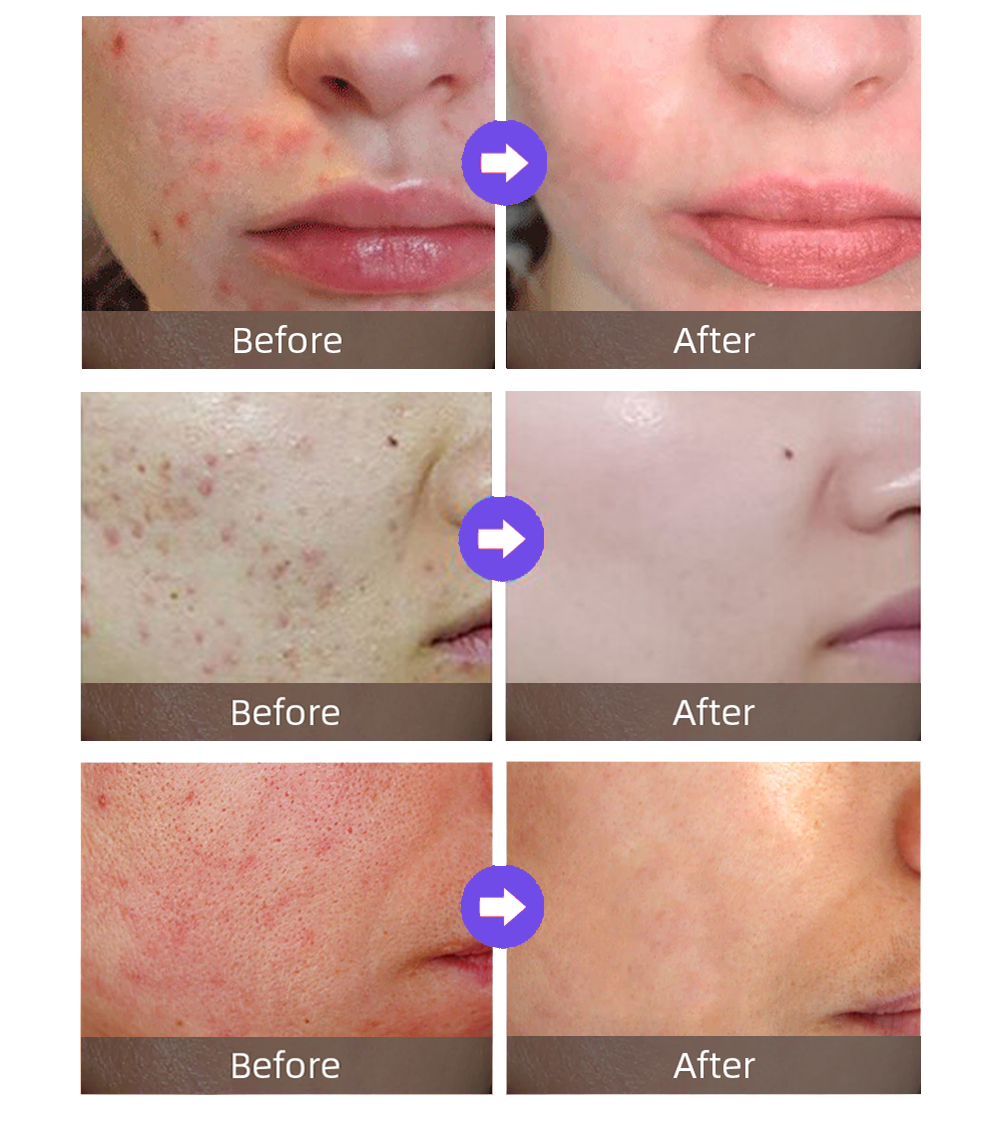 Research shows that when you shine different wavelengths of light onto your skin, it penetrates. When it does this, your cells absorb it and use it like fuel to boost your body's natural processes, this includes: rejuvenation (through increasing collagen), repair, wound healing, relief of pain and inflammation. These natural processes already help to tackle acne as well as a range of other conditions, and can be 10X'd with this mask. Find out more about what each light does below.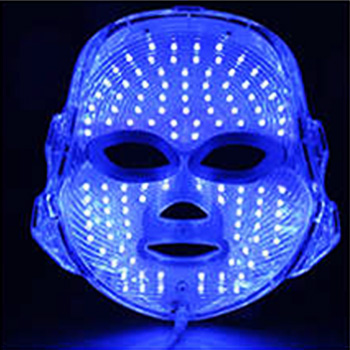 Blue light
Fights bacteria and breakouts
Blue light has an anti-microbial effect, meaning it is effective at killing several types of bacteria that collect in your pores causing breakouts. Not only that, it can shrink overactive oil glands, thereby causing fewer acne breakouts from occurring in the first place.
More info
Collapse
Red light
Reduces acne inflammation and scarring
Red LED light is proven to boost your tissue repair and healing. This is known to have multiple benefits including reducing acne, any inflammation, as well as healing scars, wounds and burns.
More info
Collapse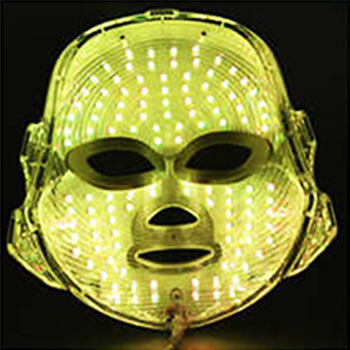 Yellow light
Treats redness
Yellow LED light has been found to reduce redness, irritation, pain and speed healing, which is why it's often used as a complementary therapy after intense pulse light (IPL), laser and microneedling treatments. It is also this that makes yellow light perfect for treating rosacea and general redness.
More info
Collapse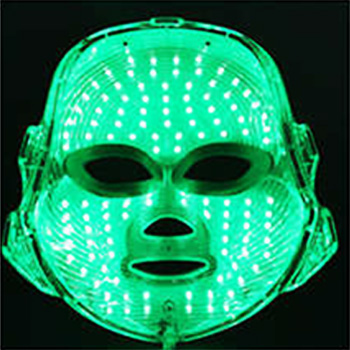 Green light
Lightens dark marks
Green light is great for tackling post-acne hyperpigmentation (as well as any dark circles, dark patches and sunspots). It does this by targeting your melanocytes, melanin-producing cells located in the top layer of skin. This inhibits the production of excess melanin and breaks up melanin bundles to lessen existing discolouration, to reveal a brighter complexion.
More info
Collapse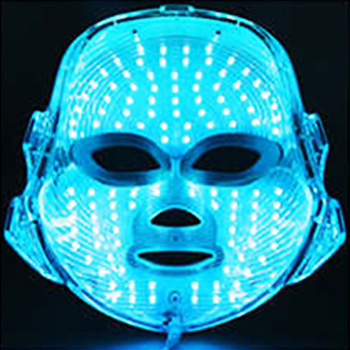 Cyan light
Soothes irritated and inflamed skin
The cyan wavelength is a mixture of green and blue light that has great calming and soothing capabilities. It's ideal for treating inflamed skin, reducing the size of swollen capillaries and as an effective pain blocker. It can also promote quicker healing in the skin.
More info
Collapse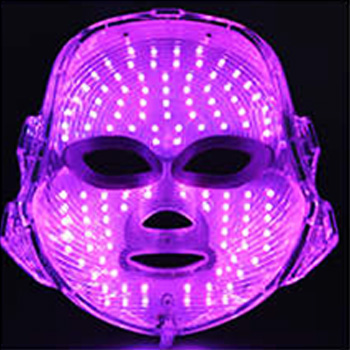 Purple light
Anti-aging and anti-acne effect combined
Purple LED light is a combination of red and blue light that eases inflammation and increases cell regeneration. This light is useful when you want a combined treatment of red and blue light that is both anti-aging and anti-acne. Many doctors also use it on young patients with acne that's especially red and inflamed.
More info
Collapse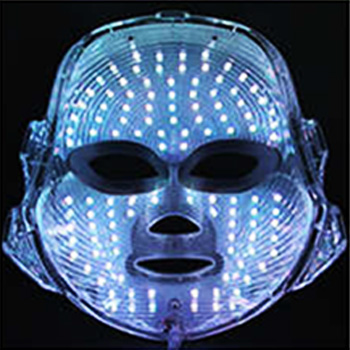 White light (New)
Boosts mood and overall tired appearance
Studies show that white light works internally. Its main job is to help regulate the body's wake-sleep cycle and boost your mood. This could therefore have a positive impact on a tired appearance.
More info
Collapse
If you're wondering if LED light therapy actually works, know that over 3 decades of studies back up this tech.

Clears and prevents breakouts
Helena Ashkenazi, Zvi Malik, Yoram Harth, Yeshayahu Nitzan, "Eradication of Propionibacterium acnes by its endogenic porphyrins after illumination with high intensity blue ligh"t, FEMS Immunology & Medical Microbiology, Volume 35, Issue 1, January 2003, Pages 17–24, https://academic.oup.com/femspd/article/35/1/17/528711?login=false 
Dai, Tianhong et al. "Blue light for infectious diseases: Propionibacterium acnes, Helicobacter pylori, and beyond?." Drug resistance updates : reviews and commentaries in antimicrobial and anticancer chemotherapy vol. 15,4 (2012): 223-36. doi:10.1016/j.drup.2012.07.001, https://pubmed.ncbi.nlm.nih.gov/22846406/
Kawada, Akira et al. "Acne phototherapy with a high-intensity, enhanced, narrow-band, blue light source: an open study and in vitro investigation." Journal of dermatological science vol. 30,2 (2002): 129-35. doi:10.1016/s0923-1811(02)00068-3, https://pubmed.ncbi.nlm.nih.gov/12413768/
Omi, Tokuya et al. "420 nm intense continuous light therapy for acne." Journal of cosmetic and laser therapy: official publication of the European Society for Laser Dermatology vol. 6,3 (2004): 156-62. doi:10.1080/14764170410023785, https://pubmed.ncbi.nlm.nih.gov/15545101/
Noborio, Reiko et al. "A new targeted blue light phototherapy for the treatment of acne." Photodermatology, photoimmunology & photomedicine vol. 23,1 (2007): 32-4. doi:10.1111/j.1600-0781.2007.00268.x, https://pubmed.ncbi.nlm.nih.gov/17254034/
Wheeland, Ronald G, and Sunil Dhawan. "Evaluation of self-treatment of mild-to-moderate facial acne with a blue light treatment system." Journal of drugs in dermatology: JDD vol. 10,6 (2011): 596-602., https://pubmed.ncbi.nlm.nih.gov/21637900/
Nestor, Mark S et al. "Efficacy and Tolerability of a Combined 445nm and 630nm Over-the-counter Light Therapy Mask with and without Topical Salicylic Acid versus Topical Benzoyl Peroxide for the Treatment of Mild-to-moderate Acne Vulgaris." The Journal of clinical and aesthetic dermatology vol. 9,3 (2016): 25-35., https://www.ncbi.nlm.nih.gov/pmc/articles/PMC4896818/
Reverses ageing signs improves overall appearance
Wunsch, Alexander, and Karsten Matuschka. "A controlled trial to determine the efficacy of red and near-infrared light treatment in patient satisfaction, reduction of fine lines, wrinkles, skin roughness, and intradermal collagen density increase." Photomedicine and laser surgery vol. 32,2 (2014): 93-100. doi:10.1089/pho.2013.3616, https://www.ncbi.nlm.nih.gov/pmc/articles/PMC3926176/
Baez, Fabien, and Laurence R Reilly. "The use of light-emitting diode therapy in the treatment of photoaged skin." Journal of cosmetic dermatology vol. 6,3 (2007): 189-94. doi:10.1111/j.1473-2165.2007.00329.x, https://pubmed.ncbi.nlm.nih.gov/17760698/
Reduces inflammation
Li, Wen-Hwa et al. "Low-level red LED light inhibits hyperkeratinization and inflammation induced by unsaturated fatty acid in an in vitro model mimicking acne." Lasers in surgery and medicine vol. 50,2 (2018): 158-165. doi:10.1002/lsm.22747, https://pubmed.ncbi.nlm.nih.gov/29095531/

Heals wounds and scars
Chaves, Maria Emília de Abreu et al. "Effects of low-power light therapy on wound healing: LASER x LED." Anais brasileiros de dermatologia vol. 89,4 (2014): 616-23. doi:10.1590/abd1806-4841.20142519, https://www.ncbi.nlm.nih.gov/pmc/articles/PMC4148276/
Alsharnoubi, Jehan et al. "Evaluation of scars in children after treatment with low-level laser." Lasers in medical science vol. 33,9 (2018): 1991-1995. doi:10.1007/s10103-018-2572-z, https://pubmed.ncbi.nlm.nih.gov/29974280/
Gál, Peter et al. "Should open excisions and sutured incisions be treated differently? A review and meta-analysis of animal wound models following low-level laser therapy." Lasers in medical science vol. 33,6 (2018): 1351-1362. doi:10.1007/s10103-018-2496-7, https://pubmed.ncbi.nlm.nih.gov/29603108/
da Silva Melo, Milene et al. "LED phototherapy in full-thickness burns induced by CO2 laser in rats skin." Lasers in medical science vol. 33,7 (2018): 1537-1547. doi:10.1007/s10103-018-2515-8, https://pubmed.ncbi.nlm.nih.gov/29704068/
Gaida, Karin et al. "Low Level Laser Therapy–a conservative approach to the burn scar?." Burns : journal of the International Society for Burn Injuries vol. 30,4 (2004): 362-7. doi:10.1016/j.burns.2003.12.012, https://pubmed.ncbi.nlm.nih.gov/15145195/
Overviews of LED Light Therapy
Ablon, Glynis. "Phototherapy with Light Emitting Diodes: Treating a Broad Range of Medical and Aesthetic Conditions in Dermatology." The Journal of clinical and aesthetic dermatology vol. 11,2 (2018): 21-27., https://www.ncbi.nlm.nih.gov/pmc/articles/PMC5843358/
Opel, Daniel R et al. "Light-emitting Diodes: A Brief Review and Clinical Experience." The Journal of clinical and aesthetic dermatology vol. 8,6 (2015): 36-44., https://www.ncbi.nlm.nih.gov/pmc/articles/PMC4479368/
Full features and benefits
Why it's better than the alternatives
An end to squeezing pimples and leaving marks behind
Constantly squeezing pimples is not a recommended way of dealing with them. Only by managing the underlying issues of bacteria, oil and inflammation can the skin effectively heal. By using LED light to directly target these problems, you can quickly heal your pimples without leaving any awful scars or pits in your skin.
The safest professional treatment you can use
LED light therapy is considered to be the safest professional treatment you can use, as it doesn't need to cause controlled damage to create new cells in the way that chemical peels, dermabrasion, laser resurfacing and retinoids do, even though studies show it delivers equal results! This means no risk of irritation, burning, or infection.This also makes it safe for all skin colours and types. So if you're someone with sensitive or darker skin at high risk of burning with treatments like IPL and peels, this option is perfect for you.
A fast and simple treatment you'll stick to
The main reason people don't see results with any treatment they use is that they don't stick to a regiment long term. LED treatments only require putting on a mask for 20 minutes. This means you're far more likely to do it consistently, and using this powerful treatment long-term means fixing your skin.
LED therapy is one of the only professional treatments that comes with 0 recovery time. In fact, this treatment is actually used to speed up healing after other invasive treatments. This means you can carry on with your day pretty much the same without any special requirements.
Frequent use of LED therapy leads to permanent and long-lasting results. Eventually all you'll need is a few maintenance treatments – 15 minutes a month. Imagine waking up with clear glowing skin, without having to waste time applying different serums, face washes, and make-up every day.
LED light therapy is completely painless as it penetrates the skin with just light and not heat, meaning this is not a treatment you'll be dreading and wanting to avoid.
Save yourself hassle with an at home device
This at-home device can be used at your convenience, without having to go to any appointments. You can even use it lying down in bed. Save yourself the effort of having to get dressed, travel, check in, wait to be called, receive a half an hour treatment only to return home again.
1 time cost unlike over-the-counter products
A course of LED treatments at any salon establishment will typically cost you between £300-500. While over-the-counter products that tackle these conditions will cost around £30-60 for a small bottle. With this home kit all you need is a one-time investment to get the results you want.
Initial results in just 2 weeks
With home LED light therapy, results can be seen in as little as two week, though the best results are seen after 3 months of use. Complete results does take patience and consistency – but what you gain is the confidence that it is the safest treatment you can use each time.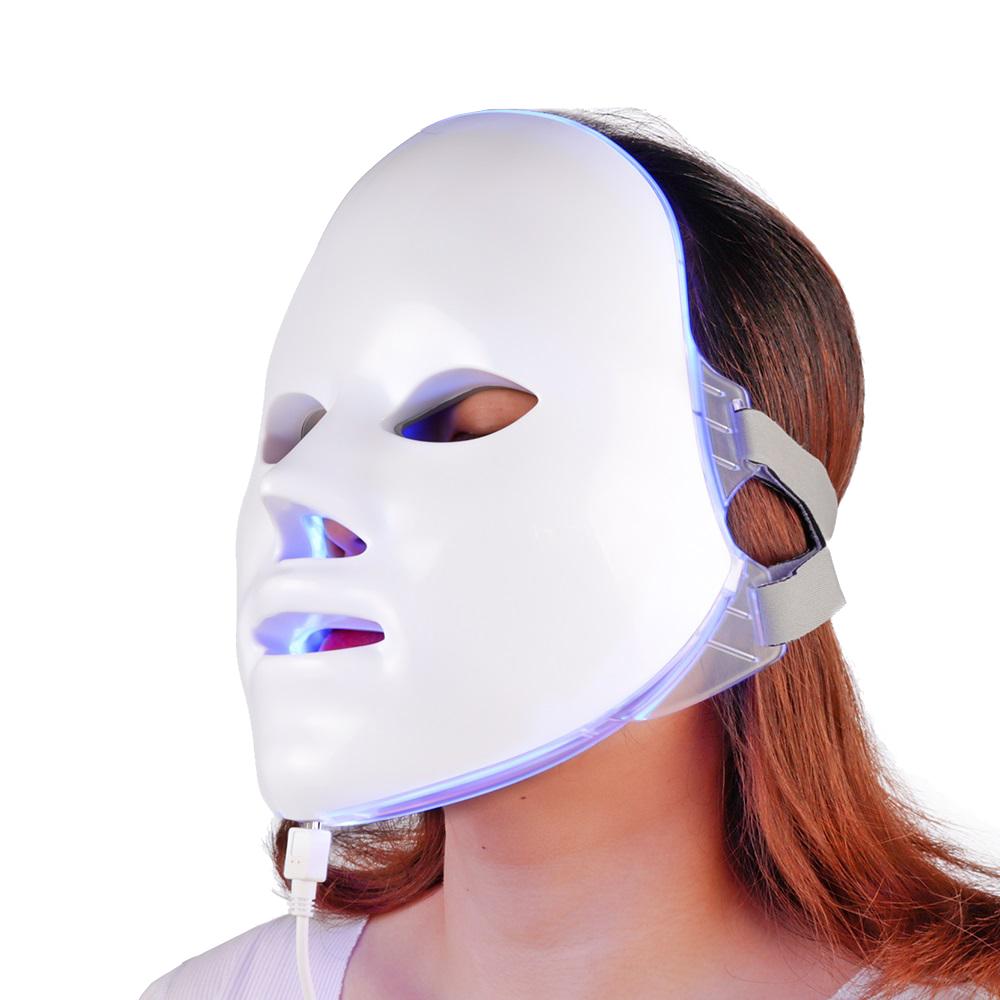 Use the mask for 20 minutes a day as soon as spots develop until you see them clear without any scarring or hyperpigmentation. Or use it for 20 minutes once a week to prevent spots and renew your skin. 
You won't see immediate clearing of your condition as the light needs time to repair your skin, but the evidence base is clear, LED light therapy does work to fix your skin. 
You can even enhance the effects by using skincare products that tackle your skin concerns as LED light helps them penetrate, or use the device to speed up healing after a microneedling session with the Hydra Needle.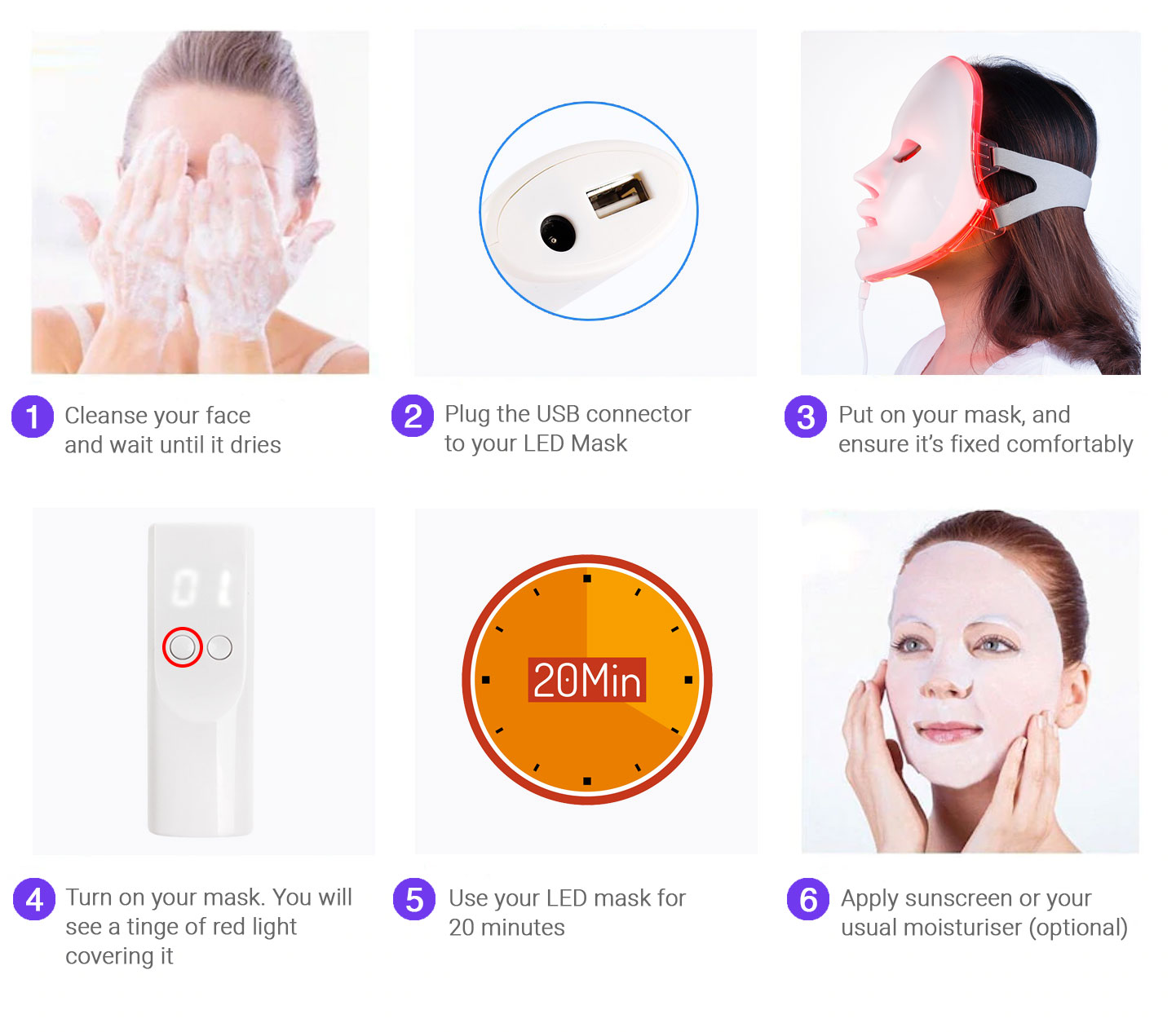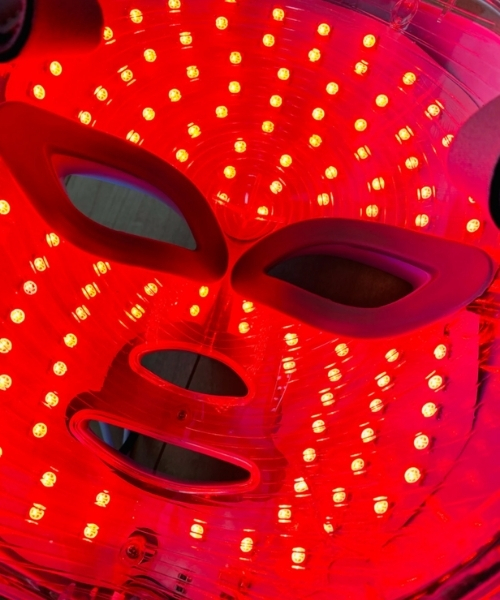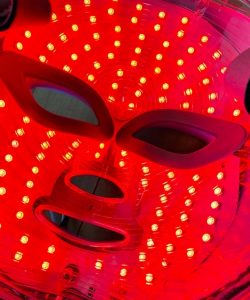 After stopping tretinoin and losing the tretinoin glow this has given me my glow back. I have mainly used the red and green colours. An added bonus is that it is helping to calms my son's acne down by using the blue colour. and we have only been using this for two weeks. I would definitely recommend this product.
Frequently asked questions