Meet the IPL hair removal device that halts your hair growth in 8 weeks, so you can enjoy long-term hairlessness without paying thousands at a clinic. 
We offer fast and free international shipping on all orders to every customer from our global distribution centre!
Shipping times
UK: 7 – 14 days
US: 12 – 18 days
Canada: 12 – 15 days
Australia: 7 – 15 days
Rest of Europe: 8 – 15 days
Rest of world: 7 – 20 days
Because we know you'll love our products, we offer a no nonsense money back guarantee. Return within 30 days for any reason at all with your product in a saleable condition and get a full refund.
90 day results or money back guarantee
Use our products consistently for 3 months and if you don't see any results, get your money back, no hassle involved. Why 3 months? Because this is the amount of time it takes for adult skin to renew, that's why most products recommend you use them for this amount of time.
6 month fault guarantee
All our electrical devices come with our store 6 month warranty. That is, if your product breaks down, you can get a replacement sent to you on us.
Proven effective
We only stock devices that are evidence based, effective and that we know we can pass onto you affordably.
Highly rated
Since launching, we've earned almost 1000 5 star reviews for our service and the results our products provide.
UK customer support
Contact us 24/7 with any questions and get fast feedback from our UK customer support - no robots, just polite and helpful staff.
Getting rid of body and facial hair is nothing but a burden:
But the Forever Smooth Pro puts an end to this. With it, you'll see your hair growing back lighter fast before halting altogether after using it twice a week for 8 weeks.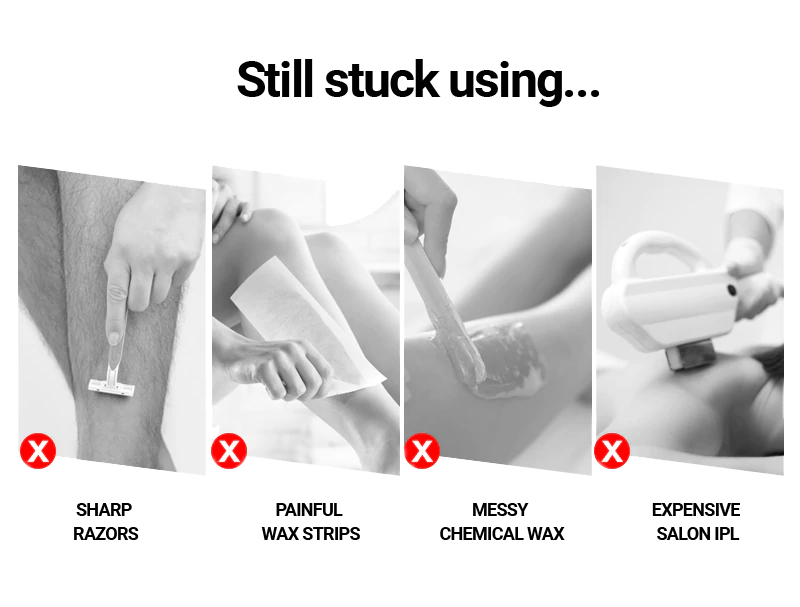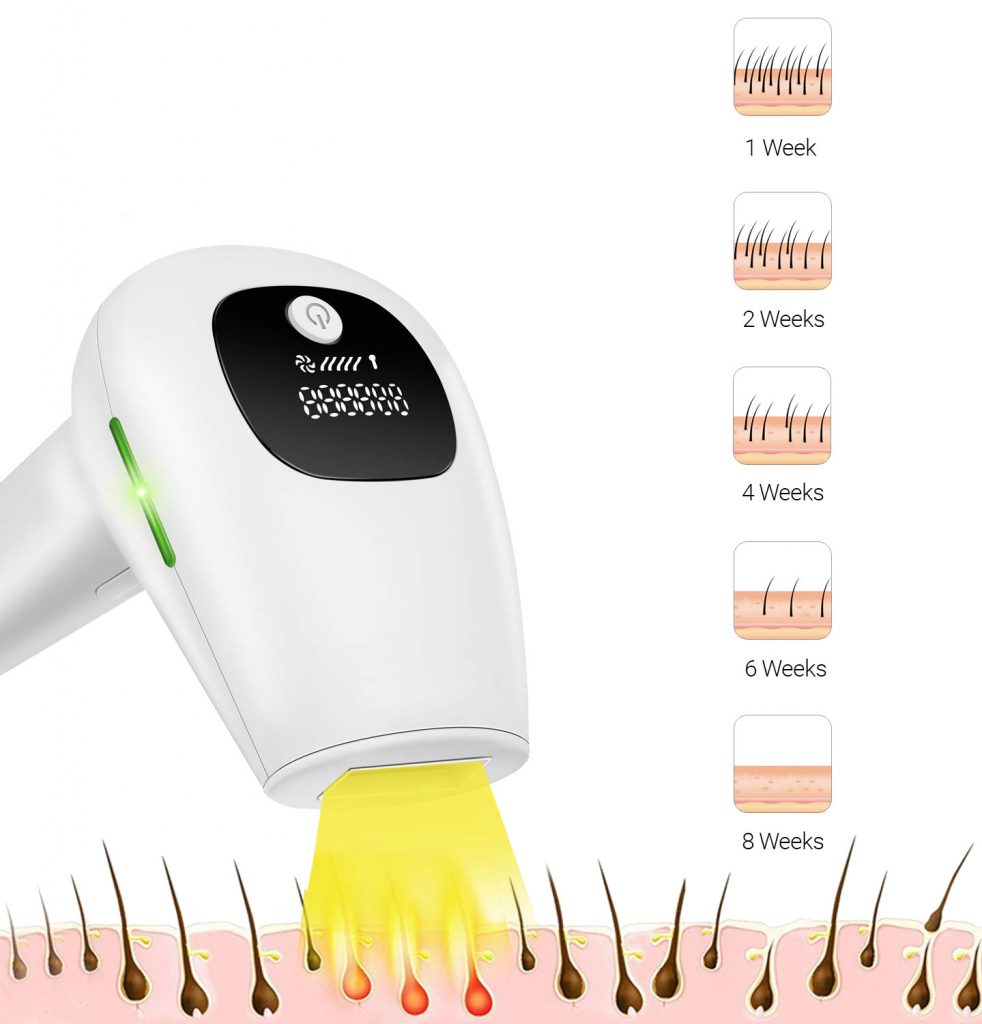 The device directs controlled pulses of energy that are absorbed by melanin (the pigment that gives skin and hair its colour) in the hair follicle. Essentially, the energy heats the hair right down to the bottom of the root, safely destroying it without damaging surrounding tissue or skin, thereby breaking the cycle of regrowth.
Full features and benefits
Made for fast & effective treatments
This device comes with a whole host of powerful features that allows you to target hairs with precision at the right level for you. 
8 energy levels for more skin tones
With Forever Smooth Pro you get over 8 intensity levels (more than the standard 5). This helps ensure people with darker skin tones and lighter hair can find the right level for them, and reduces the risk of using a level that's too ineffective or too intense.
Skin sensor technology allows the device to only emit light when positioned on the skin. This means: less of a learning curve for effective treatments, that light should not slip through and damage your eyes, and better results as no light is wasted not directly targeting your hair follicles.
Durable lamp for 900,000 flashes
The device using a quartz lamp instead of a glass lamp internally, which is far more durable. This is what allows you to use it for up to a whooping 900,000 flashes.That's enough for over 20 years worth of treatments – no need for cartridges, no being sold £3000 top up treatments, no hidden costs whatsoever.
Single flash mode for precision
The single flash mode allows you to treat smaller and more delicate areas, such as the armpit, bikini and chin, slowly, carefully and with absolute precision.
Automatic mode with 0.9 second flash time
The automatic flash mode creates continuous flashes to save you time on larger areas, such as your legs, arms, stomach, chest and back. In fact, it's capable of producing a flash in 0.9 seconds. Being able to complete treatment so efficiently means you're far more likely to stick to doing it regularly and therefore see results.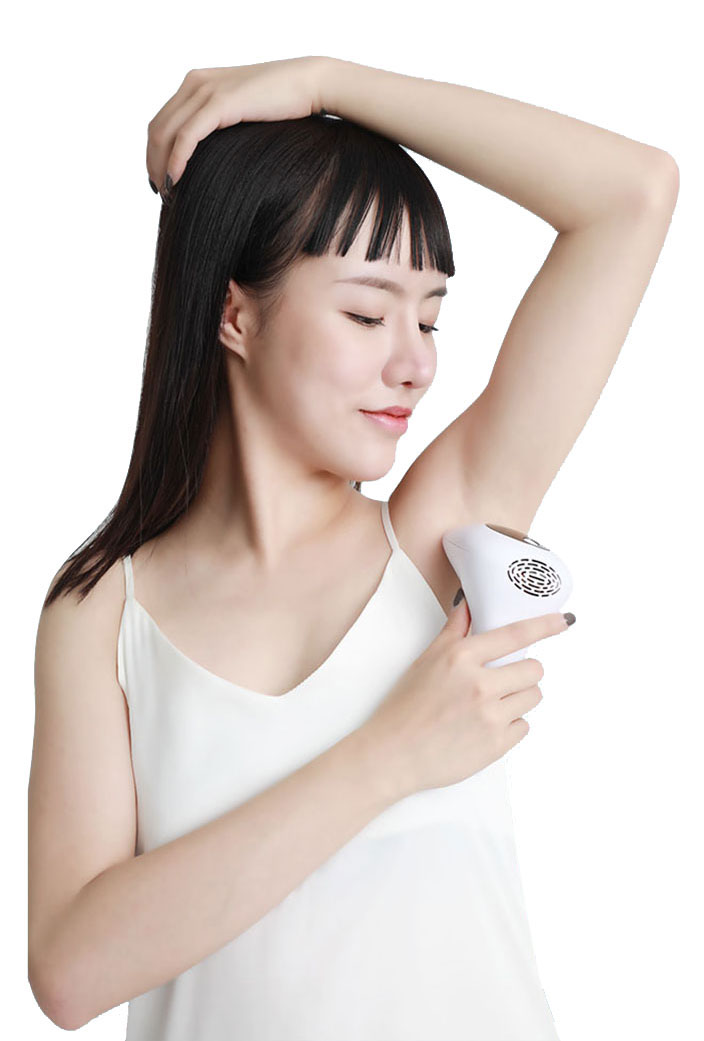 Designed for your home needs
This device is also perfectly designed for home use by non-professionals. It's built to be easy to hold and use, while its security features ensures it will last. 
Perfectly sized output window
The 1cm high and 5cm long output area also ensures you can reach hard to get places like the upper lip with ease. This means no missed spots so you'll never have to be self-conscious about people noticing any stubble.
The Forever Smooth Pro is made to be simple to use – 1 button controls the levels and another allows you to switch between single and continuous flashes.
Built-in fan for security
The device also comes with a built-in fan that provides multiple cooling channels to prevent overheating. But don't worry, it runs extremely quietly, and just means a longer lasting device for you.
LED screen with all the info you need
The large display screen makes all the information you need to know clearly available. Never be confused about what level you're using and risk skin damage. You'll also always know exactly how many flashes you have left.
Designed to fit in your palm
The device is perfectly designed to be easy to operate. It features a handle that fits into the palm of your hand, and is small overall making it easier to carry on holidays.
Why choose Forever Smooth Pro over other devices?
This device can provide hair removal that is both safe and highly effective if you follow these simple instructions.
Use it 2 times a week for 8 weeks to give you significant hair reduction. You'll notice your hair growing back fine fast and in patches within a few sessions and halting altogether after week 8. Following this, you'll only have to use the device 1-2 times a month depending on your individual hair growth to maintain your hair free results.
Who is it not suitable for?
Unfortunately, IPL isn't suitable for everyone. As the technique targets melanin it is not safe for those with light hair or dark skin tones.
Suitable for
Hair types: Black, dark brown, brown, dark blonde
Skin tones: Light to mid brown (Fitzpatrick scale I-IV)
Body parts: Legs, arms, feet, hands, stomach, back, underarms, bikini and face
NOT suitable for
Hair types: Red, very blonde, grey and white hair
Skin tones: dark brown
Anyone with a condition or on medication that causes light sensitivity
Women who are pregnant or breastfeeding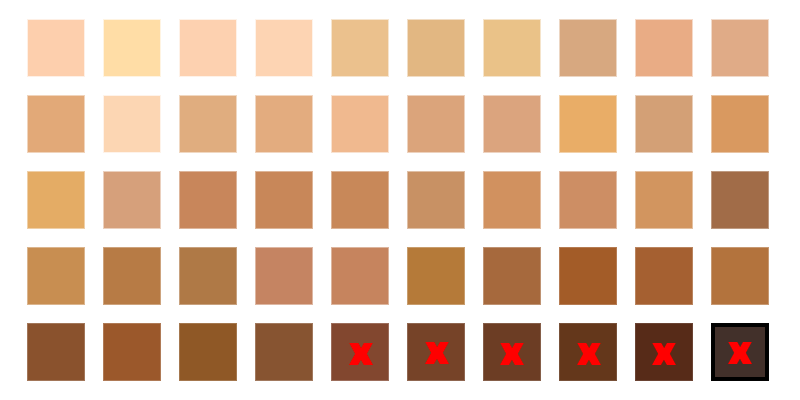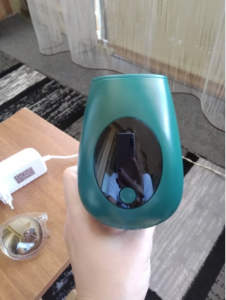 I never thought this product would work so well! For years I have wanted to get rid of hair on my chin, arms, and basically everywhere but have been completely put off my the ridiculous prices they charge in salons. This device is so easy to use, and the instructions are clear. After only a few uses I can see results even though it says it takes 8 weeks.
Frequently asked questions